13 April, 2017
Pork knuckle with dark beer (vepřové koleno)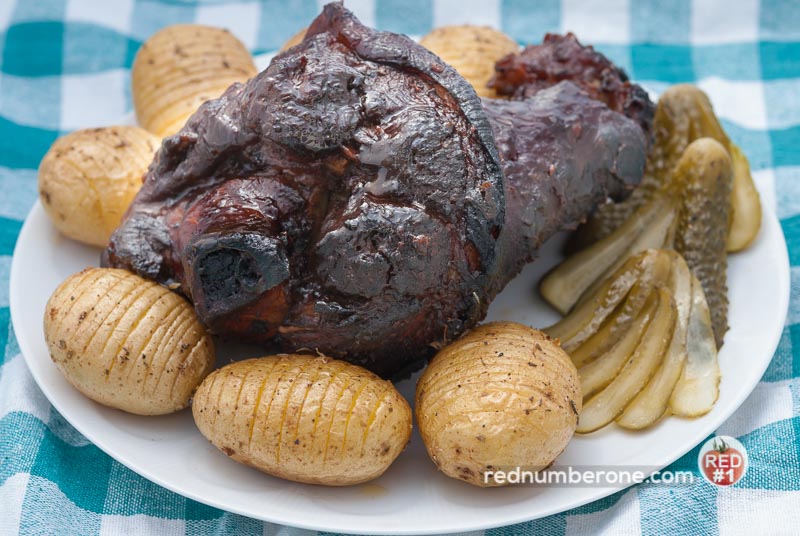 Posted in :
Eastern European Recipes
,
Meat Recipes
,
Pork meat recipes
,
Pork recipes
,
Cooking Food Recipes
,
Czech cuisine
,
Holidays and Parties
,
Main Dishes
on
by :
Larisa Ion
Tags:
baked
,
baking
,
beer
,
cooking
,
cuisine
,
czech
,
dark
,
delicious
,
dinner
,
dish
,
hock
,
homemade
,
knuckle
,
meal
,
meat
,
pork
,
recipe
,
tasty
,
traditional
,
yummy
4.57/5 (7)
Pork knuckle marinated in a dark beer is one of the famous dishes of the Czech cuisine. It's delicious, beautiful, flavored and hearty meal will delight all who'll gather for a dinner. The main ingredients it's a raw pork knuckle and a dark beer.  Beer is taken at the rate of 1-1.5 liters per 1 kg of a pork knuckle. To cook this dish takes some time. Firstly pork knuckle should be marinated in a dark beer about 24 hours.  After we need to boil and roast pork knuckle. So count your time. But, the final result will be worth your effort, believe me!
Pork knuckle with dark beer (vepřové koleno) Video-recipe
Ingredients:
1,5 kg (about 3 pounds) pork knuckle
2-3 liters (about 4-6 pints) dark beer
2 big sized quinces
100 g (4 ounces) fresh ginger
8-10 cloves garlic
3-4 tablespoons honey
5-6 tablespoons soy sauce
3-4 tablespoons Dijon mustard
Basil, thyme, marjoram, oregano, nutmeg and ground coriander – 1/2 teaspoon of each
Salt, ground black and red pepper to taste
1-2 bay leaves
Let's get started!
Marinate the pork knuckle. At first wash it carefully and rub the skin with the brush.  Dry the knuckle with paper towels.  In the small bowl mix together the oregano, thyme, marjoram, nutmeg, coriander and basil.  Add salt, chili and black pepper. Cut quince into four parts, remove the core and finely slice. Peel and thinly slice ginger. Smash peeled cloves of garlic with flat side of the knife and cut lengthwise into 2-3 parts. Take a sharp knife and make short deep cuts all over the meat. In each cut put a bit of spice mix with a piece of garlic. After thoroughly rub all surface of pork knuckle with the rest of spices. On the bottom of large deep saucepan put 2-3 layers of quince and ginger. Put on top pork knuckle and overlay it with the rest of quince and ginger. Pour dark beer into a saucepan (beer should cover the knuckle), cover with cap and place to the fridge on the low shelf for 24 hours. 
In 24 hours place saucepan with marinated pork knuckle on a high heat. Bring to a boil, reduce heat to a minimum, add bay leaf and cook about 2,5 hours.
Preheat oven up to 200°С or 392°F. Carefully remove boiled pork knuckle from saucepan and cool down a little bit. In a medium bowl mix honey, mustard and soy sauce. Place pork knuckle on the covered with foil oven-tray and coat with this mixture. Bake about 20-30 minutes until brown and crispy. After carefully remove oven-tray from the oven, wrap pork knuckle with foil and let it "rest" about 10 minutes.
Bon appétit!!!
Author:
Updated:
Apr 13, 2017