18 May, 2017
Syrniki – Russian Cottage Cheese Pancakes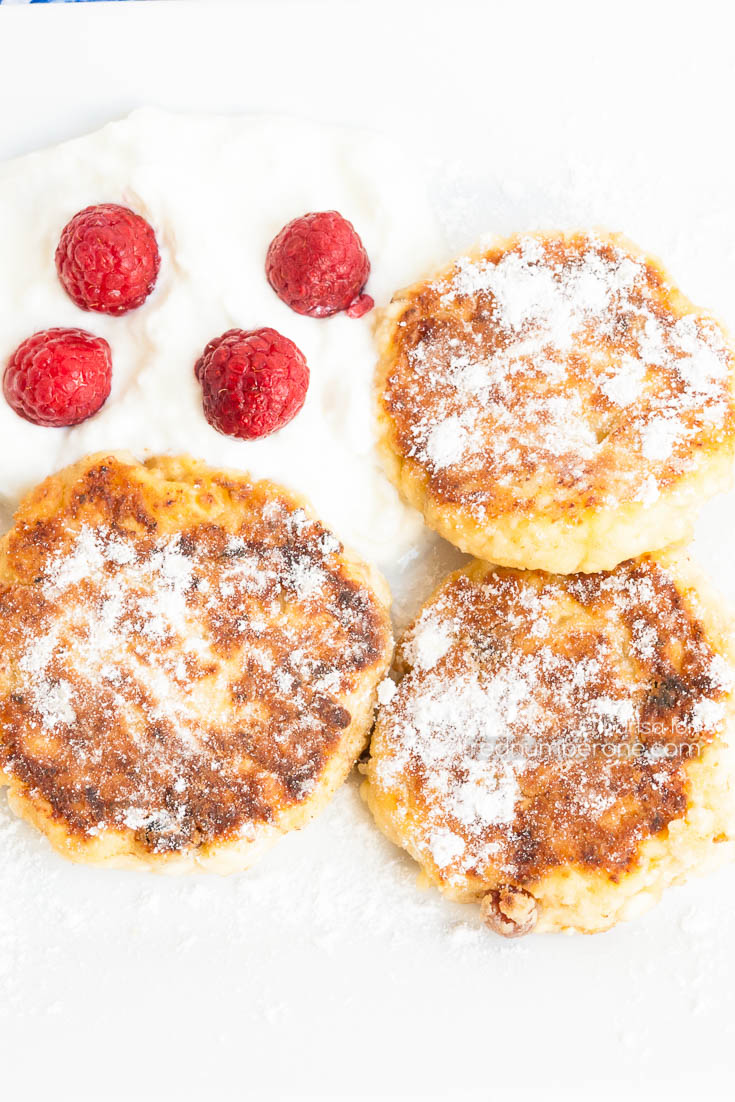 Posted in :
Eastern European Recipes
,
Ukrainian Food
,
Breakfast recipes
,
Cooking Food Recipes
,
Easy Recipes
,
Russian Food
,
Sweets and Desserts
on
by :
Larisa Ion
Tags:
breakfast
,
cheesecakes
,
cottage cheese
,
cuisine
,
curd cheese
,
dessert
,
dish
,
flour
,
healthy
,
meal
,
quark
,
recipe
,
Russian
,
sour cream
,
sugar
,
syrniki
,
tasty
,
traditional
,
Ukrainian
4.5/5 (6)
Syrniki are traditional dish in the Russian, Ukrainian and Belorussian cuisine. This is pancakes from quark (cottage cheese), eggs and flour, which usually fried on a vegetable oil or butter. To bake syrniki in the oven tasty as well (recipe is here).
Using less flour guarantees gentle creamy texture of pancakes.  You could also add in the batter raisins, chopped dried apricot, fresh apples or pears. In today's recipe I'll add banana and raisins.
If cottage cheese too wet – squeeze out it well before add to the batter. Or if you want to have really thin texture of syrniki – you should rub the quark through the sieve. Usually I don't do it, because I'd like to feel texture of quark.
Simplicity and delicious taste of this recipe will make syrniki one of your favorite breakfast recipes. Crispy outside and the center are warm and creamy, syrniki are perfect to serve with sour cream, jam, honey or fresh berries.
Ingredients:
450-500 g (1 pound) quark (cottage cheese)
1 large egg
1 tablespoon sugar
1 tablespoon all-purpose flour, plus ½ cup for dredging
1-2 tablespoons raisins
Vanilla sugar to taste
1 banana
2-3 tablespoons butter or vegetable oil (sunflower, coconut oil etc.) for frying
Video-recipe Syrniki

Let's get started!!!
In a large bowl thoroughly whisk egg with sugar until white and smooth. Add vanilla sugar, cottage cheese and raisins. Mash banana with fork, put into a bowl and stir all ingredients. Let batter rest at the room temperature for 10-15 minutes, so all ingredients connected well.
With hands or spoons form syrniki, sized about palm and a thickness 1,5-2 cm. Put each pancake into a bowl with flour and sprinkle flour over. Then place it on a well-floured table.
Heat butter or vegetable oil in a frying pan and fry about 2-3 minutes on each side until golden-brown. Place fried pancakes on the paper to absorb extra butter.
You may sprinkle syrniki with powdered sugar and serve them with sour cream, jam, honey or fresh berries. It's very tasty with tea, coffee or cocoa drink.
Bon appétit!!!
Author:
Updated:
May 18, 2017