7 February, 2018
Dressed Herring Recipe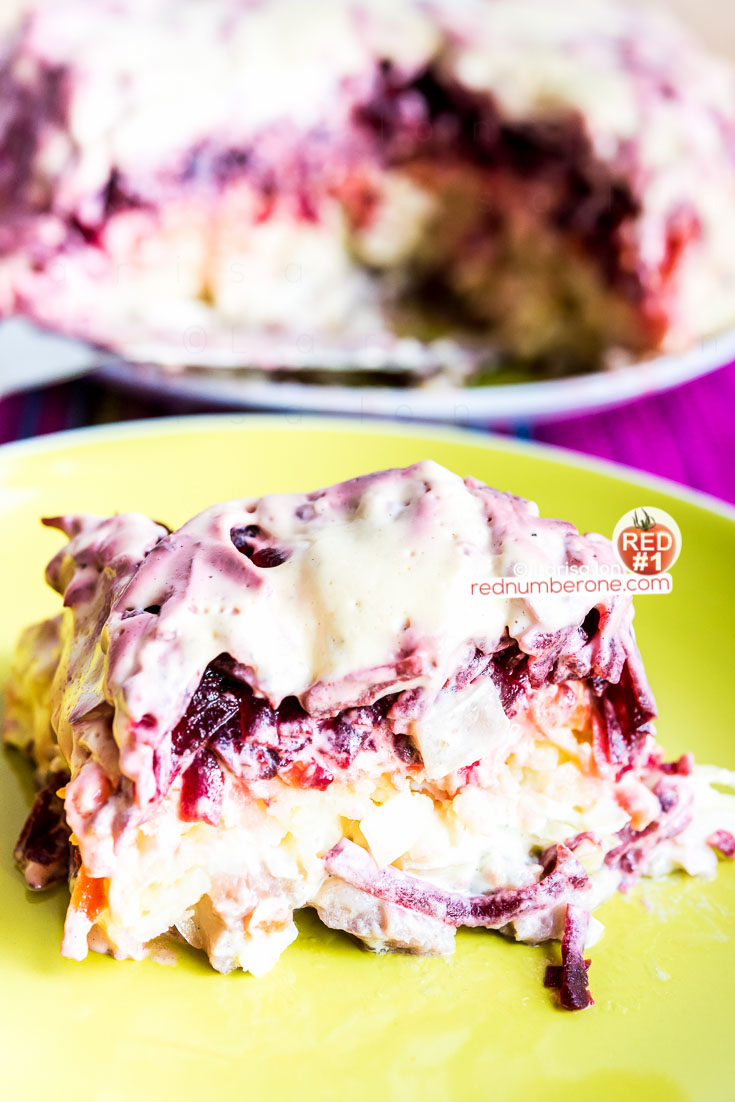 Comments : 3 Posted in :
Eastern European Recipes
,
Potato recipes
,
Salads
,
Starters
,
Vegetarian
,
Appetizers
,
Holidays and Parties
,
Main Dishes
,
Russian Food
,
Side dishes
on
by :
Larisa Ion
Tags:
appetizer
,
beet
,
carrot
,
coat
,
cuisine
,
delicious
,
dinner
,
dressed
,
fish
,
fur
,
gourmet
,
grated
,
herring
,
homemade
,
layered
,
mayonnaise
,
meal
,
red
,
Russian
,
salad
,
traditional
,
vegetable
4.25/5 (4)
Dressed Herring is a very popular traditional Russian festive dish known as Shuba or seledka pod shuboy, what means in translation herring under a fur coat. This salad is a must for every Russian holiday table.
This delicious layered salad made of finely sliced pickled herring, onion, potatoes, carrots and beetroots. Each layer of dressed herring salad is covered with tasty homemade mayonnaise. Prepare this salad at least 6 hours in advance so it can be chilled properly and all layers soaked with mayo.
Recipe of another delicious and famous Russian Olivier salad is here.
Dressed Herring Recipe Video
Ingredients for Dressed Herring (8 portions):
½ kilo or about 1 pound pickled herring
2-3 medium sized beetroots
3 large potatoes
3 medium sized carrots
1 big onion, peeled
1 cup of mayo, homemade or any of your favorite from supermarket
Salt, ground black pepper to taste
1-2 tablespoons sunflower oil
Let's get started!!!
Boil beetroots, potatoes and carrots until fork tender. Then cool down and peel them.
Now we have to prepare our herring. For this you may to use knife or scissors. Snip off the fins, then make the cut from the centre of the belly up towards the head and remove the guts. Make the cut along on the back from the tail to the head. Now make a short cut next to the tail and carefully peel off the skin. Flip your fish and do the same from the other side. Separate the first piece of fillet from bones. Remove the rest of bones. Now pull out the backbone and our fillet is ready.
Cut herring fillet on medium sized pieces. Place all of them in one layer on a wide flat plate. Now finely chop onion. Now slightly mash the onion with the flat side of the knife. It helps to reduce the bitterness and strong onion flavor. Put the layer of onion on top of the herring. Drizzle with sunflower oil, add black pepper to taste. Now add on top of onion about 3 tablespoons of mayo and spread evenly.
The next layer gonna be the grated potato. Now you could start to arrange the shape of your salad with spoon or spatula. Top up potato with some mayonnaise and grate the carrot. Put the layer of delicious homemade mayonnaise on top of the carrot.
And the top of our "shuba" is a grated beetroot. Arrange the shape of dressed herring salad and cover the top and sides with mayo. Chill for 2-3 hours or better overnight and serve.
Bon appetite!!!
Author:
Updated:
Feb 7, 2018
3s COMMENTS