Broccoli and cheese pancakes
Today we will cook tasty, light and very gentle broccoli pancakes with soft cheese. But, before to cook I'll tell you about a broccoli.
Broccoli is a vegetable in the cabbage family. Broccoli is classified in the same cultivar group as a cauliflower. Edible part of broccoli its large florets. The broccoli comes from the Italy. Word "broccoli" it's a plural of "broccolo", which means "the flowering crest of a cabbage". Broccoli is a very healthy vegetable, rich in vitamins C, K, A, and folic acid and trace elements (calcium, magnesium, iron, potassium and phosphorus). Especially broccoli contains a lot of vitamins C, K and folic acid. It contains more protein than a beef.
For save good compounds of broccoli you shouldn't digest it. The best ways to cook broccoli it's a boiling it 3-5 minutes in slightly salted water, steaming or stir frying.  At the same time frozen broccoli keeps all vitamins and minerals.
For this recipe you may to use fresh or frozen broccoli as well. Broccoli pancakes is pretty easy and fast to cook. It's a delicious and healthy dish for a breakfast, snack or garnish.
 Ingredients: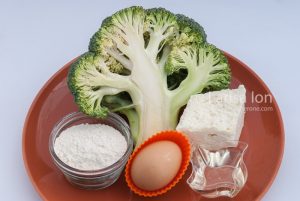 250-300 g (8-11 ounces) raw broccoli (fresh or frozen)
2 ½ Tbsp of flour or oat flakes
1 large egg
100 g (4 ounces) of cheese (feta or bryndza), mashed with a fork
2-3 tbsp. of sunflower or olive oil
Fresh ground black pepper to taste
You may add fresh or dry greens, garlic or chili pepper if desire.
 Let's get party started!
Cut broccoli on florets. Bring lightly salt water to boil in the big pot. Put broccoli florets into boiling water and boil 3-5 minutes. Don't overcook it, broccoli shouldn't be soft, just 'al dente' condition. Strain and cool in a colander.
In a food processor shake egg with salt and ground black pepper (may add fresh or dry greens, garlic or/and chili pepper to taste). Place broccoli into food processor and chop slightly (don't puree it) or chop by knife. Place everything from the food processor into big bowl, add flour or/and oat flakes and mashed cheese. Mix everything thoroughly with a spoon and leave a bowl to stay at room temperature for 10-15 minutes.
Preheat a large pan with 2-3 Tbsp of oil. You may to form pancakes by hands or place them directly on a skillet with tablespoon. Fried pancakes for 1-2 minutes on each side till golden. Place ready pancakes on a paper towel to absorb extra oil.

Raw broccoli and cheese pancakes

You may to serve broccoli pancakes by itself with yogurt or sour cream, or like a side dish for any kinds of fish, meat and poultry.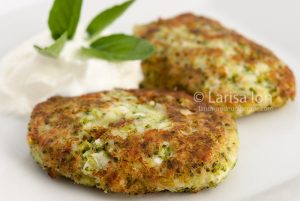 Bon appetite!!!!